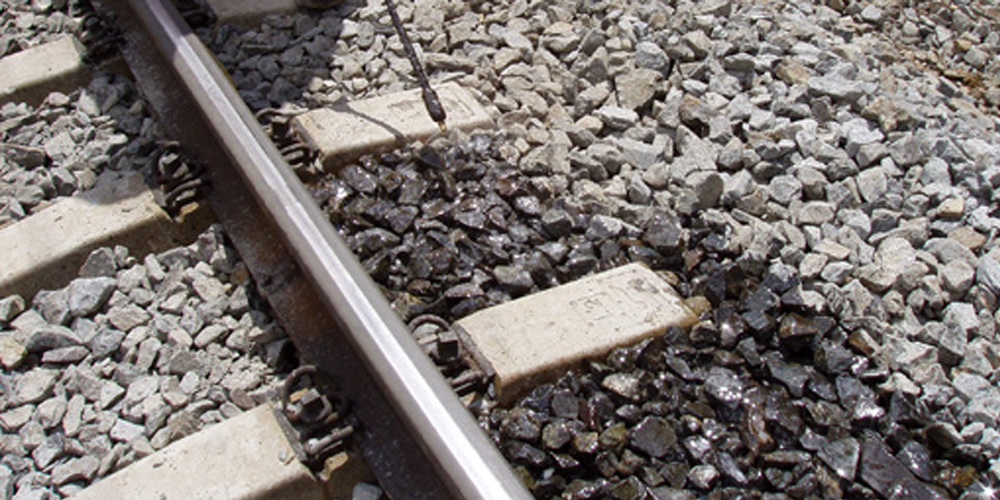 Description
Normal railway transportation, but above all high-speed lines, require a technologically advanced railway line and track construction. Just in time at the beginning of the high-speed phase the TerraSystem GmbH team developed various systems, which are part of the modern track construction.
The solidification of the gravel is in many areas an important part of modern railway construction. Partly due to the high transit speeds, e.g. in the tunnel and bridge area, dangerous flying gravel must be urgently prevented.
TerraSystem GmbH has many years of experience in the field of constructive gravel bonding within track construction.
The bonding technology has been patent- protected and is used in various designs in the area of the track constructions. Terrasystem consolidation processes are used from the consolidation of the gravel shoulder in the rail line and construction site to the switch consolidation.
Field of application
The approval by the EBA (Eisenbahn-Bundesamt) has been granted and in meantime the system has become an integral part of the railway companies worldwide. At the German federal railroad, the standard construction method has been issued in various applications for our system. The system is used in Japan, Australia, England, Austria, Switzerland, France and Canada. The areas of application are in the following areas:
slope stabilization
Construction site security
Sound absorption
Track cross bonding
Switch stabilization
Escape and work routes
Surface bonding for easier cleaning in railway stations
Further fields of application
As a further field of application, the casting of the tracks in concrete has been shown to prevent weeds. Since the privately-owned railway companies are also committed to the maintenance of railway tracks and thus to weed elimination, this area represents a high cost factor. The former solution with chemical means is no longer an option from an environmental policy perspective.
The currently used technology through the use of special microwave vehicles is very cost-intensive. Advantages of the Terrasystem procedure:
Protection of dangerous points in the track area at slopes, junctions and track crosses
Drainage capability
Anti-slip, slopes are stabilized
Gravel swirling is completely prevented
Sound-absorbing (noise level reduction)
Temperature resistant in extreme weather conditions
Penetration of UV light is not possible, plant cover is prevented
Low maintenance costs and long service life
Gravel can be reused after breaking
Environmentally safe and no special waste disposal
Easy cleaning in the station area, thus significant cost reduction